DAKVEILIGHEID
Conform de wetgeving is de gebouweigenaar verantwoordelijk voor de veilige werkomgeving op daken die hoger zijn dan 2,5 m boven maaiveld of 2,5 m hoger dan andere dakvlakken.
Dit verzorgen wij door het aanbrengen van permanente dakveiligheid-voorzieningen, zoals dak-ankerpunten en lijnsystemen die voldoen aan EN 795. Een veilige daktoegang wordt mogelijk gemaakt door bijvoorbeeld een dakluik of een ladderborging en het gebruik van persoonlijke beschermingsmiddelen met harnas en positioneringslijn in een veiligheidskoffer.
Voor meer informatie download de folder hieronder
Download Folder dakveiligheid Ben Roos Dakbedekking BV
Met het bijbehorende logboek wordt u als gebouweigenaar ontlast van uw verantwoordelijkheden en kunnen betrokken partijen veilig op uw dak werken.
Wij verzorgen RI&E (risico-inventarisaties) en het leveren en aanbrengen een compleet pakket permanente dakveiligheidsvoorzieningen.
Het multifunctioneel gebruik van daken zal in de toekomst alleen maar toenemen, om dit goed te kunnen beheren zal dakveiligheid een belangrijke rol spelen.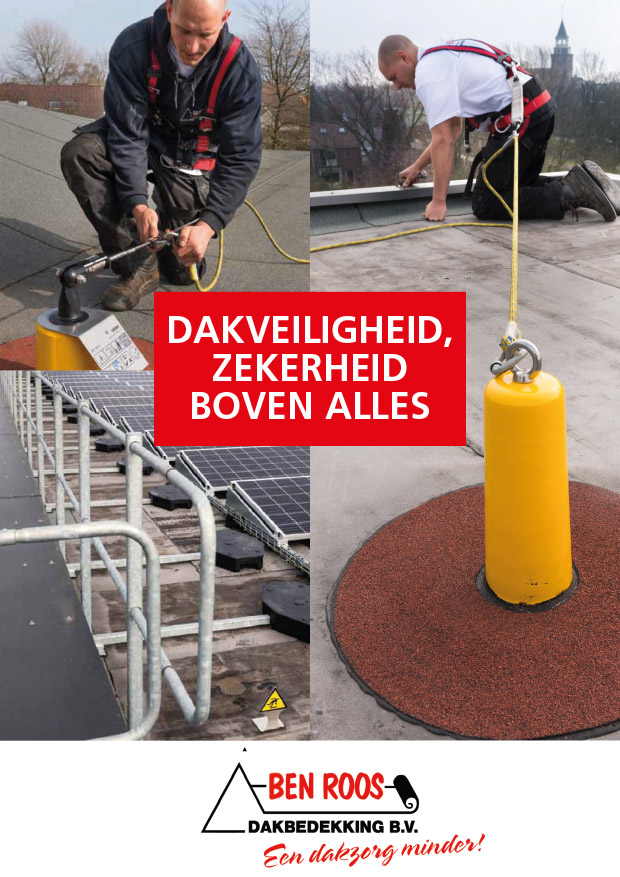 Let op: wij doen geen pannendaken, rieten daken, golfplaten en leien daken
Onder het motto ''Schoenmaker, blijf bij je leest!'' werkt Ben Roos helaas niet met pannendaken, rieten daken, golfplaten en leien daken. Voor pannendaken kunt u terecht bij een bouwkundig aannemer of een pannendekker.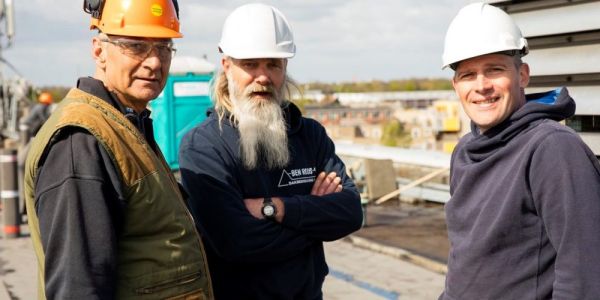 Kwaliteit voorop
Compleet pakket diensten
Oplossingsgericht werken
Service
Maatschappelijk verantwoord